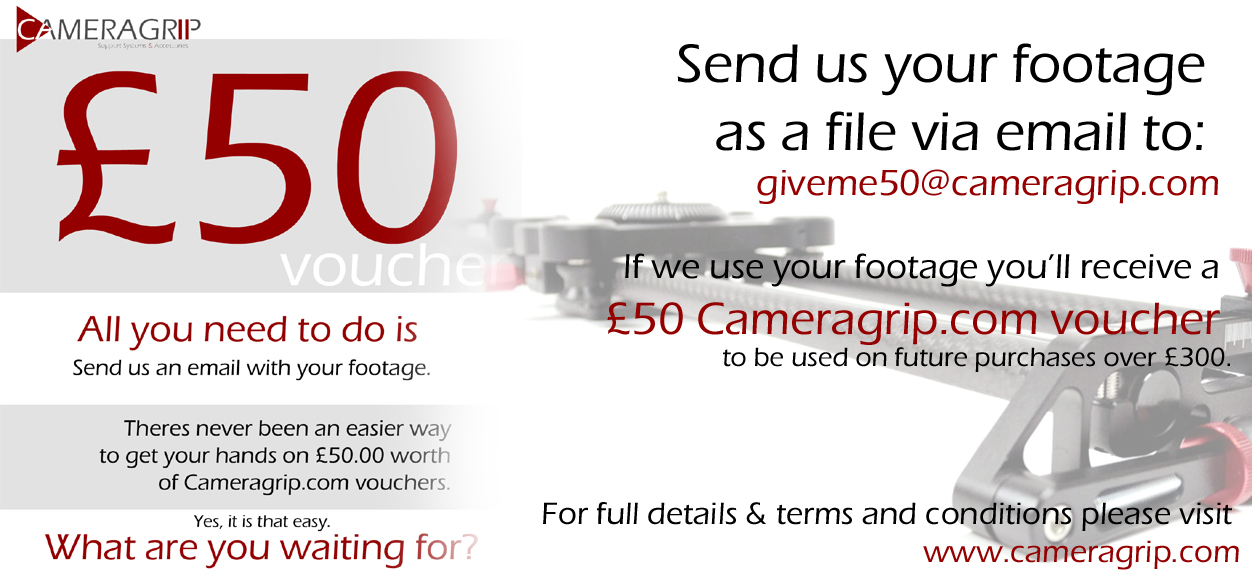 Amazing Customers
We have some great customers who have shared with us the amazing footage they have captured using the products we supply. Some of this has been added to products, some of this has been used for new product videos and some has been shared through social media to further increase the owner's exposure and international reach. We really appreciate our customers and are proud of what they achieve with the products we supply, therefore we want to extend the opportunity and reward you at the same time.
Introducing giveme50
Share your content with us, we share it with the world and you get £50 as a thank you. Quite simply, it's that simple. The footage must belong to you and the more breathtakingly brilliant it is the better. Have you created a stunning time lapse with one of our systems, captured the most amazing footage from one of our car mounts or just filmed the most stunning scenery with one of our jibs? We want to show the world what you do so only your best footage will make the cut.
How it works
All you need to do is put together a short video of your best footage and email it across to us, if we like it we will give you a £50 voucher and will use it for up and coming product promotions, new product videos and for sharing on social media. Simply send the file to giveme50@cameragrip.com and add the following information to the email so we can credit you accordingly:
Content Owner Information - Production company name or your name
Products Used - We need to know what equipment you used to capture the footage - specifically what grip equipment
Your website address - We may use this to increase your exposure
The following statement - By supplying this footage, I (add name/company name) provide full consent for Cameragrip, and any affiliate companies that form part of the B Hague & Company Ltd group, permission to use the footage for advertising and marketing purposes in exchange for a £50 Cameragrip voucher. I confirm I (add name/company name) own all the footage supplied and give my permission to be credited at times when the footage is used. I confirm I have read the full terms and conditions and agree to them as listed on the Cameragrip website.
Please note all footage must be supplied using a recognised medium and we will not be accepting any zip files. Content must be supplied via either Drop Box, We Transfer or Google Drive.
What are you waiting for?
So that's it, get your footage across to us quick and let the world see what you produce.
Terms & Conditions
The terms and conditions are set out to ensure a clear understanding between the content supplier and Cameragrip, which is a subsidiary of B Hague & Company Limited.
1. You must own the full intellectual property rights of all footage supplied and must not, under any circumstances, provide any footage that does not belong to you.
2. By supplying us footage you specifically give us the following permissions: you grant us a non-exclusive, transferable, sub-licensable, royalty-free, worldwide license to use any content that you supply in any form of advertising or marketing we desire.
3. If we want to use any of the footage supplied we agree to supply you with a £50 Cameragrip voucher for that footage which can be redeemed on any purchase over £300 and is valid for 12 months from the date of issue. The £50 voucher is supplied in exchange for the whole footage supplied regardless of how much we use and how many times we use it.
4. You must supply us with correct information regarding the type of products used and the brand they belong to.
5. We may credit you for the footage used, or may not, depending how it is used and the context it is used in. By supplying the footage you provide us with permission to credit you as and when desired.